Zaypher
Phone calls and text messages encryption on iOS and Android smartphones
WHAT IS IT?
Zaypher is a mobile communications application that provides security and privacy by encrypting phone calls and text messages on Android smartphones and iPhone.
Zaypher provides end-to-end 256-bit AES encryption with FIPS 140-2 certification, guaranteeing that the communication is only accessible for the sender and receiver and is never left unencrypted.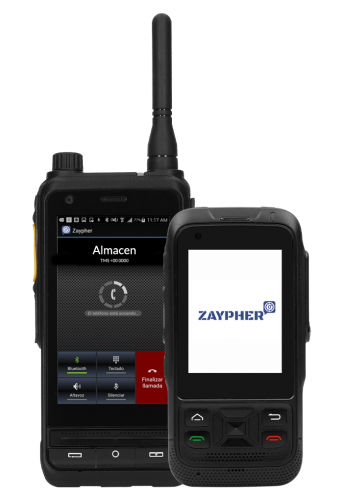 ENCRYPTED CALLS
Talk securely, anytime, anywhere
Talk to your colleagues, business partners, family and friends securely with end-to-end encryption, ensuring that no one can hack or spy on your calls. With HD audio, your calls are clear, so while no stranger can hear what you are saying, the participants on the call can hear each other perfectly. Calls are available worldwide (even in remote low-bandwidth locations).
ENCRYPTED MESSAGES
Send messages securely and safely.
Send messages securely, either individually or to collaborate in groups, about trade secrets, intellectual property, business strategies, financial data, customer data or any other confidential information. With a familiar and easy-to-use interface, share information without worrying about your messages being intercepted by competitors, hackers, or governments.
WE WANT TO KNOW YOU BETTER!
HOW CAN IT HELP YOU?
All communication through Zaypher is end-to-end encrypted. All calls, messages and files are encrypted in transit and messages and files are encrypted at rest. We as a provider cannot access the content of your messages, files or calls.

All communication through Zaypher is encrypted end-to-end. This means that calls and messages content and data remain encrypted as they pass through mobile Networks and are decoded at the device level so there are no vulnerable mid points for an attack or data leak.